How Emily Wickersham Really Felt About Cote De Pablo When She Started NCIS
Starting a new job is always a little overwhelming, but when you're an actor in the public eye, everything is heightened. When Emily Wickersham joined the cast of the long-running CBS procedural "NCIS," which follows a team of special agents from the Naval Criminal Investigative Service as they solve murders around Washington, D.C., she was joining a well-oiled machine, albeit one that had just lost a fan-favorite character in the form of Cote de Pablo's Ziva David.
Wickersham's first appearance on the series came in the ninth episode of Season 11, titled "Gut Check." Her character, Eleanor "Ellie" Bishop, was an NSA analyst before joining the NCIS team led by Special Agent Leroy Jethro Gibbs (Mark Harmon). Although Wickersham was initially slated to appear in just a few episodes in 2013, she was quickly promoted to a series regular and stayed with the series until her own departure at the end of Season 18.
Following the airing of the show's 400th episode in January 2021, Wickersham looked back on her journey on the show with co-star Wilmer Valderrama during an Instagram Live broadcast. As reported by the Daily Express at the time, Wickersham revealed she had initially been nervous about joining the show.
Wickersham was intimidated by Cote de Pablo's legacy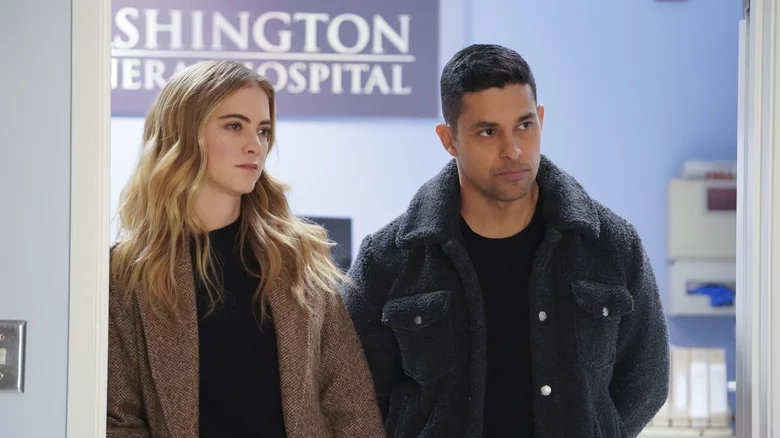 Ziva David joined "NCIS" as a replacement for Sasha Alexander's Caitlin "Kate" Todd, who died at the end of Season 2. Ziva, a former Mossad agent, quickly became a beloved character, and fans of the show were drawn to the "will they, won't they" relationship she engaged in with Tony DiNozzo (Michael Weatherly). However, de Pablo left the series early in Season 11, which meant the series needed to find a replacement for Ziva on the team.
Wickersham admitted to Valderrama, who joined the series in Season 14 as Special Agent Nick Torres, that she was "overwhelmed" during her first episode and was intimated at the idea of filling de Pablo's shoes. "Obviously everyone loved Ziva," she said, "and I was so intimidated and nervous about what the fans were going to think about my character."
This sentiment echoed what she told TV Guide in 2013 when she first joined the series. "[de Pablo's] work here was amazing, and I think they're big shoes to fill," she said at the time.
Although it took some time, fans eventually warmed to Bishop. Wickersham even had a chance to work alongside de Pablo when she reprised her role of Ziva for several episodes in Season 17. During another Instagram Live, the actress said it was fun getting to work with de Pablo. "I didn't think that would happen on the show, so it was a really cool experience," said Wickersham.
With Wickersham having departed at the end of Season 18, which wrapped in May 2021, it will be interesting to see who steps in to replace her, and whether they'll feel the same way about her legacy on the series that Wickersham once did about de Pablo's.